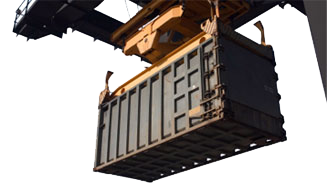 Give Back
Morgan Shipping philanthropic activities includes financial contributions, in-kind charitable shipping services, and volunteer services by our team members. The commodities we ship globally include relief assistance during times of crises, disaster, and civil unrest. We facilitate requests from numerous non-for profit organizations from around the world by helping them solving transportation and shipping needs.
Examples of shipping requests in kind contribution;
Dear Morgan Shipping,
On behalf of the Hope Foundation, a development charity based in Cameroon, (http://www.hope-found.org/) I organised a shoe collection. The shoes have been donated by a local nursery school for the people of Cameroon, many of whom have never had a single pair of shoes. I am now looking for a shipping company, charity, or funds to cover transport of these donated shoes from north London to Berlin, where the Hope Foundation have a warehouse to sort and clean the shoes before being shipped to Cameroon. Please contact me to further discuss. Thanks,
To Morgan Shipping Lines;
As per our conversation, our non-for profit program requires 52 Recycled second-hand or retired containers are used to create much needed infrastructure such as schools and clinics and schools enabling around a thousand local students to resume their studies almost immediately. Please let us know if you can help Best regards, Coordination management.
Containers in the community programme South African
Dear Morgan Shipping
I'm helping 
Larger Than Life
 ( 
http://largerthanlifeusa.org/
) to organize 2nd year in a row an amazing project together with 
Ezra
 (
http://ezrataglit.org/
) 
Raising  Toys / and money that will be donated as a Hanuka gifts to Israeli kids with cancer.

Besides of having you donate to that cause huge amounts of money (which I will ask later;) I wanted your help with shipping –

Last year we shipped an amazing package of toys to those kids straight from NY to Israel, few hundreds of pounds with an estimated cost of $3000. That was painful, and it was money that was deducted from our budget for purchasing MORE toys.

I know you have great contacts within the international shipping industry, and wanted to know if you could 

help us to find a company that will be able to sponsor this year's shipment ?


Those toys are being delivered in person to kids with cancer that are hospitalized in Israel, (scroll down at this pdf to Page 4: 

http://www.carmelistudio.com/images/ltl_newsletter_2011%5B1%5D.pdf

) all 501 C3, tax deductable I'm CCing my partners on this project

Could you assist?


Amir