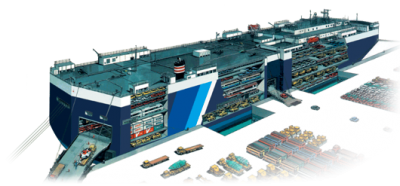 Roll On Roll Off (RoRo)
This is one of the easiest methods for international vehicle shipping. With RoRo service, your vehicle is driven onto the ship and safely secured inside the covered car deck with straps and braces. This method is commonly used by car manufacturers to ship new cars to dealerships.
RoRo ports are found in most major countries with regular sailings. Although there is no specific size limitation to the vehicle you want to ship via RoRo, we recommend you double check with your account executive. The only requirement is that your vehicle must be in working condition.
We offer the following services for RoRo Cargo:
Organization of the pre-transportation

Preparing all the necessary forms 

Reservations and booking of appropriate shipping space 

Customs clearance process

Follow up with steamship carrier and ETA notifications 

Port handling, storage and delivery
Documentation required:
Original Vehicle Title
Copy of Passport or Visa
Notarized Shippers Release Letter (If needed will be emailed to you separately)
All Documentation should be Express Mailed, prior to container arrival: