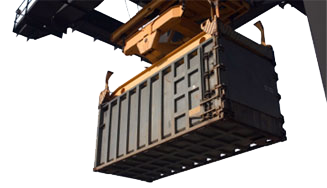 Commercial Cargo
Experience an easier way to ship your goods with more flexibility, reliability and global access from North America.
Containerized Commercial Cargo
Morgan Shipping handles large and complex cargo shipments including machinery, building materials , textiles and more. Our company has built up a good standing in the commercial international shipping marketplace, and our client list includes some of the largest exporters in the United States and Canada.
Our B2B commercial shipping transactions includes:
Import and export commercial cargo shipping and freight services
Ro/Ro services (roll-on roll-off cargo, which is driven on and off the vessel)
Break bulk cargo (loose cargo material that must be loaded individually, such as oil or grain)
Full Container Load shipping
Less than Container Load shipping
International cargo shipping management
Specialized equipment cargo
Oversized cargo shipping (special vehicles, buses, large tractors, boats, ect.)
Morgan shipping general cargo equipment container sizes includes;
45' High Cube Dry Container
Interior Dimensions
Door Opening
Tare Weight
Payload
Cubic Capacity
L:
13.556 m
44'5 11/16″
4,590 kg
27,910 kg
86.0 cbm
W:
2.352 m
7'8 9/16″
W:
2.340 m
7'8 11/16″
10,118 lbs
61,529 lbs
3.031 cu. ft.
H:
2.695 m
8'10 1/16″
H:
2.579 m
8'5 1/2″
45 High-Cube Reefer Container
Interior Dimensions
Door Opening
Tare Weight
Payload
Cubic Capacity
L:
13.102 m
42'11 3/4″
5,200 kg
27,300 kg
75.4 cbm.
W:
2.286 m
7 6″
W:
2.294 m
7'6 1/4″
11,463 lbs
60,184 lbs
2,663 cu.ft.
H:
2.509 m
8'2 3/4″
H:
2.535 m
8'3 3/4″
40' High Cube Dry Container
Interior Dimensions
Door Opening
Tare Weight
Payload
Cubic Capacity
L:
12.030 m
39'5 9/16″
3,930 kg
28,570 kg
76.0 cbm.
W:
2.350 m
7'8 1/2″
W:
2.340 m
7'8 1/16″
8,663 lbs
62,984 lbs
2,714 cu.ft.
H:
2.690 m
8'9 7/8″
H:
2.579 m
8'5 1/2″
40' Standard Dry Container
Interior Dimensions
Door Opening
Tare Weight
Payload
Cubic Capacity
L:
12.035 m
39'5 13/16″
3,700 kg
28,800 kg
67.0 cbm.
W:
2.350 m
7'8 1/2″
W:
2.339 m
7'8 1/16″
8,156 lbs
63,491 lbs
2,393 cu.ft.
H:
2.393 m
7'10 3/16″
H:
2.274 m
7'5 1/2″
40' Open Top Container
Interior Dimensions
Door Opening
Tare Weight
Payload
Cubic Capacity
L:
12.043 m
39'6″
 L:
11.858 m
38″
4,300 kg
28,280 kg
64.0 cbm.
W:
2.338 m
7'8″
W:
2.162 m
7'1″
9,480 lbs
62,344 lbs
2,260 cu.ft.
H:
2.272 m
7'5 1/4″
40 High-Cube Reefer Container
Interior Dimensions
Door Opening
Tare Weight
Payload
Cubic Capacity
L:
11.577 m
37'11 3/4″
4,150 kg
28,350 kg
67.0 cbm.
W:
2.294 m
7'6 1/4″
W:
2.290 m
7'6 1/8″
9,148 lbs
62,499 lbs
2,366 cu.ft.
H:
2.509 m
8'2 3/4″
H:
2.535 m
8'3 3/4″
40' Standard Container
Interior Dimensions
Door Opening
Tare Weight
Payload
Cubic Capacity
L:
11.577 m
37'11 3/4″
3,950 kg
7,910 kg
58.7 cbm.
W:
2.294 m
7'6 1/4″
W:
2.286 m
7'6″
8,708 lbs
61,529 lbs
2,073 cu.ft.
H:
2.210 m
7'3″
H:
2.238 m
7'4 1/16″
40' Flat Rack Container
Interior Dimensions
Door Opening
Tare Weight
Payload
Cubic Capacity
L:
12.080 m
39'7 9/16″
5,480 kg
25,000 kg
W:
2.420 m
7'11 1/4″
12,080 lbs
55,113 lbs
H:
2.103 m
6'10 13/16″
20' High Cube Dry Container
Interior Dimensions
Door Opening
Tare Weight
Payload
Cubic Capacity
L:
5.919 m
19'5″
1,900 kg
24,800 kg
33.0 cbm.
W:
2.340 m
7'8 1/16″
W:
2.286 m
7'6″
4,189 lbs
54,673 lbs
1,179 cu.ft.
H:
2.286 m
7'6″
H:
2.251 m
7'4 9/16″
20' Standard Dry Container
Interior Dimensions
Door Opening
Tare Weight
Payload
Cubic Capacity
L:
5.440 m
17'10 3/16″
2,750 kg
24,250 kg
27.9 cbm.
W:
2.294 m
7'6 1/4″
W:
2.286 m
7'6″
6,062 lbs
53,460 lbs
986 cu.ft.
H:
2.237 m
7'4 1/16″
H:
2.238 m
7'4 1/16″
20' Open Top Container
Interior Dimensions
Door Opening
Tare Weight
Payload
Cubic Capacity
L:
5.919 m
19'5″
 L:
5.425 m
17'9 9/16″
2,177 kg
21,823 kg
32.0 cbm.
W:
2.340 m
7'8 1/16″
W:
2.223 m
7'3 1/2″
4,799 lbs
48,110 lbs
1,143 cu.ft.
H:
2.286 m
7'6″
20' Flat Rack Container
Interior Dimensions
Door Opening
Tare Weight
Payload
Cubic Capacity
L:
5.935 m
19'5 5/8″
2,560 kg
21,440 kg
W:
2.398 m
7'10 3/8″
5,643 lbs
47,265 lbs
H:
2.327 m
7'7 9/16″