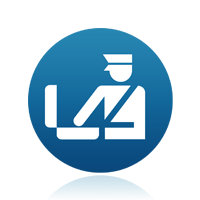 GABON           
The below information is a brief summary of customs regulations when you plan your international shipping to Gabon. Always double check with your local embassy or consulate to make sure you have all the information you need before you make your move. Contact the nearest Gabon Embassy.
When you plan your international shipping to Gabon, The following documents are required for customs clearance:
Copy of Passport
Working Visa
Work Permit
Change of Residence Certificate (consularized at origin)
"Attestation Reservation de cale"
Employer's Relocation Certificate and letter confirming new employment
Inventory (three copies) detailed, valued, in French, signed and dated by the Customer
Letter to Destination Agent authorizing them to clear shipment
International Vaccination Certificate stipulating employee is vaccinated against Yellow Fever (valid for 10 years)
All documents must be in French
When shipping goods overseas to Gabon, The following items customs guidelines will need to be met:
Used household goods may be duty-free
One air and one surface shipment allowed per family
When shipping goods overseas to Gabon, The following items are dutiable and/or restricted:
Alcoholic and other spirits prohibited and should be sent separately. Only the mention of "fond de cave" (less than 30 bottles) is acceptable
All electrical items and furniture must be more than six months old. New electrical items are subject to payment of Customs duties and taxes
All new items (six months in possession of shipper) are subject to duties and taxes
Invoices required
Personal computers should not be included in household goods shipment, but brought in by shipper. Subject to taxes and duties.
Firearms (must have authorization from the Government of Gabon before importing)
Taxes: 2% on every shipment. Exception: French Military, French Embassy, and Chief of French Military Mission
When shipping Motor Vehicles overseas to Gabon, The following documents and regulations will apply:
All cars are subject to 53.4% C.I.F. value
Customs in Gabon assesses value of car. Additional taxes also apply:
Documents Required:

Purchase Invoice
Title
Insurance Certificate
The regulations are subject to change without notice. Our company is not liable for any costs, damage, delays, or other detrimental events resulting from non-compliance.