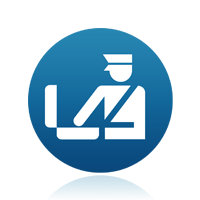 EGYPT
The below information is a brief summary of customs regulations when you plan your international shipping to Egypt. Always double check with your local embassy or consulate to make sure you have all the information you need before you make your move. Contact the nearest Egypt Embassy.
 *NOTE:   THAT CUSTOMERS ARE HAVING PROBLEMS CLEARING THE RESTRICTED ITEMS SHOWN BELOW THROUGH CUSTOMS AND SIGNIFICANT LOSS AND DAMAGE HAVE BEEN REPORTED TO US.
When you plan your international shipping to Egypt, The following documents are required for customs clearance:
Passport (original)
Work Permit (original) or application documents
Customs Bond
Letter of Guarantee or Power of Attorney
Residence Visa
Inventory – showing number of pieces, cartons and precise contents of each
Keys for any locked items
Letter from Employer to Customs stating duration of Customer's stay and financial guarantees
Certificate of Residence Change
Delivery address and telephone number
When shipping goods overseas to Egypt, The following items customs guidelines will need to be met:
Household goods duty-free for government, oil company and Aid Project personnel, provided a Letter of Guarantee is submitted approving the import and stating that the shipment will be re-exported
Household goods and personal effects are dutiable to everyone except above
Shipments subject to 100% inspection
When shipping goods overseas to Egypt, The following items are dutiable and/or restricted:
Items not showing obvious signs of use are taxed as new, at VALUES DETERMINED BY CUSTOMS
Seeds and animals (must receive approval from the Ministry of Agriculture)
Toilet articles
Consumable items
Alcohol taxed at 3,000% + 100% Sales Tax
Compact hardware and software, fax machines, answer phones, photo copiers, printers, compact discs, music cassettes and video tapes will be subject to screening by the censors.

Ensure a user's manual and or a full descriptive brochure is available with any and all technical devices.
Special permit required for telecommunication equipment and high frequency radios
ALL PRINTED MATTER, RECORDS, FILMS, TAPES, SLIDES, MOVIES, VIDEOS, COMPACT DISCS, COMPUTER SOFTWARE, ETC. SUBJECT TO CENSORSHIP AND CONFISCATION AND WILL BE HELD FOR APPROVAL BY THE MINISTRY OF CULTURE (MUST BE PACKED SEPARATELY FOR EASY ACCESS)
When shipping goods overseas to Egypt, The following items are prohibited from entry into the country:
Pornographic material
Drugs and medicine
Firearms and weapons, ammunition, daggers and swords
Anti-Islamic religious materials
Gold and silver (tableware permitted)
Cordless telephones
Resolution color printers or photocopiers
When shipping Motor Vehicles overseas to Egypt, The following documents and regulations will apply:
Autos allowed, but highly taxed and regulated
Purchase invoice, stating price and auto specifications required
Autos over three years old prohibited
The regulations are subject to change without notice. Our company is not liable for any costs, damage, delays, or other detrimental events resulting from non-compliance.