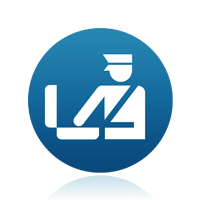 THAILAND           
The below information is a brief summary of customs regulations when you plan your international shipping to Thailand, Always double check with your local embassy or consulate to make sure you have all the information you need before you make your move. Contact the nearest Thailand Embassy.
When you plan your international shipping to Thailand, the following documents are required for customs clearance:
Passport (original)
Non-immigrant visa or resident visa valid for one year
Work Permit (original) or copy of B.O.I. Letter (to Customs) valid for one year
It is recommended that the customer coordinate arrival of the shipment with the issuing of the Work Permit to facilitate duty-free entry.
Inventory (two copies, legible and in English) showing the following details:

Manner of packing (carton, wrapped, crated, etc.)
For all electrical appliances, the brand name, model and serial number
For TVs, the diameter of the picture tube and whether color or black and white
Copy of insurance policy (if applicable)

Shipper's contact address and phone number
When shipping goods overseas to Thailand, the following items customs guidelines will need to be met:
CUSTOMER MUST BE IN COUNTRY FOR CUSTOMS CLEARANCE
All shipments subject to inspection
Anyone with a full year Work Permit (or one year Visa) and returning Thai residents who have lived more than one year abroad (to frequent traveling back and forth can cause problems with customer) will be considered for duty-free exemption.
Customer allowed duty-free import of one air and one sea shipment from country of last residence
Shipment must not arrive before the customer
Goods must arrive no later than six months after the date on the Work Permit
Goods must originate from the same country as the customer
When shipping goods overseas to Thailand, The following items are dutiable and/or restricted:
New items (over six months old) require invoices
Alcoholic beverages
Tobacco products
Works of art and antiquities
Especially HIGH DUTIES apply to stereo and video equipment, all appliances, luxury items, carpets, foodstuff, and office equipment
Only one of each type of electrical appliance is allowed, duplicate appliances will be charged full duties.
Computers, fax machines and phones can cause problems, may not be considered as household/personal effects, but rather as dutiable office equipment.
 When shipping goods overseas to Thailand, the following items are prohibited, but not limited to,  from entry into the country:
Narcotics and drugs
Medical equipment
Gold and silver
Plants (Health Certificate required)
Several plant and fruits are prohibited (inquire before importing)
Firearms, weapons, ammunition and dangerous objects (subject to taxes and licensing, which take very long; goods of this type MUST NOT BE INCLUDED in household goods shipment)
Radio equipment and transmitters of any kind
Pornographic material
 When shipping Motor Vehicles overseas to Thailand, the following documents and regulations will apply:
Automobiles may not be imported unless the applicant applies for the permission and receives the permission from the Ministry of Commerce before shipping the automobile into the kingdom. This permission is very difficult to obtain for anyone who is not a diplomat. Duties can be as high as 300% on the value of a new car.
Automobile Registration from the foreign country
Driver's license from the country from which the car was exported
Original B/L
Import permit (must be available before the car is shipped to Thailand)
Moving Pets to Thailand, The following documents must be presented for the importation of pets:
Animals subject to duties
Information such as sex, name, age and breed should be provided to Destination Agent well in advance of importation of animal
Quarantine may be required
Documents Required:

Import Permit
Health Certificate providing evidence that rabies vaccination has been administered seven days prior to departure
Certificate of Vaccination
Pedigree (if available)
Note: It is recommended to send pets as excess baggage where customs clearance and duties may not be applicable.
Note: When sending a loose shipment it is suggested to use a 20ft. container as they are more practical for Bangkok roads.  Only one sea shipment and one air shipment are permitted. Shipper can bring only one of each appliance.
If you are moving your household, commercial goods or motor vehicles to Bangkok, Samut Prakan or to another other city, please give us a call to go over any questions on documentation.
The regulations are subject to change without notice. Our company is not liable for any costs, damage, delays, or other detrimental events resulting from non-compliance.