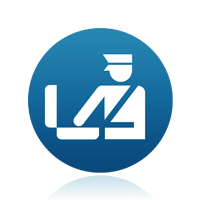 SWITZERLAND           
The below information is a brief summary of customs regulations when you plan your international shipping to Switzerland,  Always double check with your local embassy or consulate to make sure you have all the information you need before you make your move. Contact the nearest Switzerland  Embassy.
When you plan your international shipping to Switzerland,  the following documents are required for customs clearance:
Passport (copy of first three pages)
Residence Permit or "Zusicherung Aufenthaltsbewilligung"
Lease or Property Title of Residence in Switzerland
Inventory (detailed) in English, German, French, or Italian, dated and signed by the customer (three copies) showing:

Full contents of this and any other shipments planned
Appliances, giving make and serial number

Customs Import Form 18.44 (in duplicate and signed by Customer) and a list of alcoholic beverages needs to be completed upon arrival in Switzerland
Returning Nationals require an Attestation of Residence issued by the local authorities
Foreigners require a Work and Residence Permit issued by the local authorities
Inventory for all shipments must be submitted with first shipment!
Swiss:  "Schriftenempfangsschein" (receipt for depositing papers at the Town Hall)
Form "Erklarung/Abfertigungsantrag fur Libersiedlungsgur" (owners' declaration of personal household goods)
When shipping goods overseas to Switzerland,  the following items customs guidelines will need to be met:
CUSTOMER MUST BE IN SWITZERLAND AND TAKE UP RESIDENCE PRIOR TO CUSTOMS CLEARANCE IN ORDER TO BE ELIGIBLE TO IMPORT USED HOUSEHOLD GOODS AND PERSONAL EFFECTS DUTY-FREE (REGISTRATION WITH THE LOCAL AUTHORITIES IS REQUIRED FOR CLEARANCE).
Used household goods and personal effects must be owned and used for a minimum of six months and remain in Customer's possession for at least one year
Items must be imported during the period of transfer of residence (maximum of three years)
Wedding Presents:

Goods must be shipped within 3 months following the date of wedding for free entry

Inheritance:

Admitted free of duty provided they are used and the declared owner lived abroad
Legal heirs must have their residence in Switzerland
A declaration ("Declaration personnelle d'effects de succession" form 18.46) must be completed and given to the local Swiss Customs Direction before importation
Used household goods given by a living person to an heir as inheritance advancement ("Avance d'hoirie") is considered as inheritance goods
When shipping goods overseas to Switzerland,  The following items are dutiable and/or restricted:
New items (less than six months old) require an invoice, and must be listed separately on the inventory
Foodstuffs in quantity
Alcoholic beverages (must be declared under penalty of heavy fines)
Appliances and restricted items should be loaded last in the container for easy access by Customs
When shipping goods overseas to Switzerland,  the following items are prohibited, but not limited to,  from entry into the country:
Drugs and narcotics
Weapons (sporting and hunting guns may be imported with a permit)
Ammunition
Anti-radar equipment
Animals products from protected/endangered species (ivory, skins, etc.)
Cleaning fluids
When shipping Motor Vehicles overseas to Switzerland,  the following documents and regulations will apply:
Duty-free if owned and used over six months and owner states it will not be re-sold within 12 months of import
All cars must comply with Swiss Government regulations
Permission to import is granted on case-by-case basis
Documents Required:

Passport
Work Permit
Title
Purchase invoice
Form 18.44
Proof of Residence
Valid Driver's License
Foreign Registration Card
Car license from previous country
Household goods inventory
Swiss Insurance Receipt
Moving Pets to Switzerland,  The following documents must be presented for the importation of pets:
Dogs, cats and birds permitted
Proof of inoculation, veterinary attestation and anti-rabies shot required
Quarantine may be required
Due to the landlocked location, all surface freight shipments will arrive via a base European port such as Antwerp, Belgium or Rotterdam, Netherlands. The Swiss destination agent will move the shipment in bond to Switzerland for customs clearance.
Swiss customs officials are very strict about descriptive inventories. Under no circumstances is the description of "Packed By Owner" allowed.
If you are moving your household, commercial goods or motor vehicles to Zürich, Genève, Basel, Bern, Lausanne or to another other city, please give us a call to go over any questions on documentation.
The regulations are subject to change without notice. Expedia Shippers is not liable for any costs, damage, delays, or other detrimental events resulting from non-compliance.