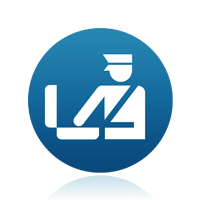 SPAIN (Including the Canary Islands)           
The below information is a brief summary of customs regulations when you plan your international shipping to Spain, Always double check with your local embassy or consulate to make sure you have all the information you need before you make your move. Contact the nearest Spain Embassy.
When you plan your international shipping to Spain, the following documents are required for customs clearance:
For the Canary Islands:

Passport (original) with last entry stamp by the Police or photocopy of same legalized by a Notary Public
Certificate of Domicile obtained from the local Town Hall (original)
N.I.E. Number – identification number (original) Could take 2-3 weeks to obtain
Flight tickets on entry (original)
Inventory (original) in Spanish with a valuation signed by Customer
Rental Contract or Escritura-Title Deed to property (original)
Application of Residence

All Islands can vary in required documentation
For Spain:

Passport with last entry stamp (original or copy legalized by Spanish Consulate at origin)
Spanish Identification Card (D.N.I.)
Residence Visa
Residence/Work Permit (original)
A bank guarantee is required if a Residence/Work Permit is not available. Shipment MAY be released with a deposit of a bank guarantee which must be canceled within one year
Certificate of Origin/Certificate of Residence Change ("Asunto Cambio Residencia"), provided by the local city hall, stating customer has resided abroad for a minimum of 12 months (EC countries for six months)
Residence rental/purchase agreement (legalized) showing a minimum rent of two years
Letter from employer stating that employee will be working in Spain
Consular registration
Fiscal identification number (N.I.E.)
Non-Spanish citizens must obtain a consular or residence resign at origin stating that the customer has canceled his residence at origin due to moving to Spain
Customs application for duty-free import
Letter authorizing destination agent to clear shipment
Detailed inventory in Spanish, valued (two copies) signed and dated by the customer, legalized by Spanish Consulate at origin and valued
Must show contents of cartons, state goods have not been used for more than six months and list all major appliances with make, model and serial number
Purchase invoice for appliances may be necessary; customer should be advised to hand carry these with them!

Shipments NOT PROPERLY DOCUMENTED will be assessed import duties and taxes, at values determined by Spanish Customs and face lengthy delays and additional charges
IF CLEARANCE PROCEDURES ARE NOT INITIATED BECAUSE OF LACK OF DOCUMENTS, SHIPMENT MAY BE SUBJECT TO AUCTION BY SPANISH CUSTOMS AFTER ONE MONTH
When shipping goods overseas to Spain, the following items customs guidelines will need to be met:
SHIPMENT MUST NOT MOVE UNTIL ALL DOCUMENTS ARE IN ORDER AND CUSTOMER IS IN SPAIN
Used household goods may be duty-free if:
Owned minimum six months (EC countries three months) prior to arrival in Spain and customer can prove ownership for this period
Will remain in customer's possession for a minimum of one year
The contents correspond to customer's status
Used household goods must be imported no later than twelve months after customer has obtained a Residence/Work Permit in Spain
Shipment must arrive no later than three months after customer; special permit necessary if shipment arrives later, resulting in ADDITIONAL CHARGES AND DELAYS
When shipping goods overseas to Spain, The following items are dutiable and/or restricted:
New items (less than six months old)
Tobacco products
Foodstuff, antiques, art objects and ammunition require SPECIAL PERMIT
Liquor
When shipping goods overseas to Spain, the following items are prohibited, but not limited to,  from entry into the country:
Weapons and ammunition (need special permit from the Spanish Police, obtained by the owner from "Direccion General de la Guardia Civil")

A complete description such as model, caliber, serial number, etc. are required
Spanish Police will retain it until final permission is granted

Drugs
Pornographic material
Cleaning Fluids
Paints
When shipping Motor Vehicles overseas to Spain, the following documents and regulations will apply:
Including motorcycles and motor scooters
Duty-free import may be allowed for limited time (six months); import duties and taxes will be payable upon application for permanent permit
Customer must have resided outside Spain for at least twelve months (six months for EC countries)
Must have been used by customer minimum of six months
Modifications that alter original design are prohibited
Temporary permit can be obtained at Customs (valid for six months),

Customer must obtain Spanish Vehicle Registration within this time

Documents Required:

Purchase Invoice or Certificate of Ownership
Registration or Title
Circulation Permit
Tax Receipt
Liability Insurance on auto must be valid and running
License plates from country of origin
Identification Card ("Documento Nacional de Identidad")
Passport or Residence Card
Title issued under the owner's name
Valid Insurance
ORIGINALS are required for above documents

*NOTE:  CUSTOMS CLEARANCE FORMALITIES IN THE CANARY ISLANDS MAY VARY FROM SPAIN. CUSTOMERS ARE ADVISED TO CONTACT THE DESTINATION AGENT FOR DETAILS.
If you are moving your household, commercial goods or motor vehicles to Madrid, Barcelona, Valencia, Sevilla, Zaragoza, Málaga or to another other city, please give us a call to go over any questions on documentation.
The regulations are subject to change without notice. Our company is not liable for any costs, damage, delays, or other detrimental events resulting from non-compliance.