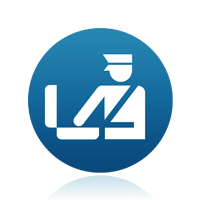 PANAMA           
The below information is a brief summary of customs regulations when you plan your international shipping to Panama, Always double check with your local embassy or consulate to make sure you have all the information you need before you make your move. Contact the nearest Panama Embassy.
When you plan your international shipping to Panama, the following documents are required for customs clearance:
Residence Visa (or letter from Registered Lawyer and copy of petition for Residence Visa, if Customer does not have one)
Work Permit (or certificate from attorney)
Passport (original)
Certificate of Change of Residence
Letter confirming employment
Detailed inventory (English or Spanish)
When shipping goods overseas to Panama, the following items customs guidelines will need to be met:
CUSTOMER MUST BE IN COUNTRY AT TIME OF CUSTOMS CLEARANCE
Household goods and personal effects duty-free for:

Foreigners with Residence Visa
Panamanians returning after two years abroad

Shipments must arrive within six months of Customer
All shipments inspected
Customs inspection, Customs charges and Customs Broker's charges all payable by Customer at time of clearance
Additional charges incurred for storage or customs delays will be for Customer's account
When shipping goods overseas to Panama, The following items are dutiable and/or restricted:
New items, alcohol, jewelry, coins
When shipping goods overseas to Panama, the following items are prohibited, but not limited to,  from entry into the country:
Foodstuff and plants
Narcotics and drugs
Straw or hay packing in lift-vans
Firearms, weapons and ammunition
When shipping Motor Vehicles overseas to Panama, the following documents and regulations will apply:
High duty payable by customer at approximately 27%-30% of CIF value
Customer and broker must process documentation and pay duties. Customs clearance process is lengthy and demurrage is likely.
Documents Required:

Title
Original Passport
Bill of  Sale
Original Certificate of Ownership
Pollution Certificate
Moving Pets to Panama, The following documents must be presented for the importation of pets:
Certificate of Health and Rabies Vaccination required
30 day quarantine period required
If you are moving your household, commercial goods or motor vehicles to Panamá City, San Miguelito, Tocumen, David, Arraiján, Colón or to another other city, please give us a call to go over any questions on documentation.
The regulations are subject to change without notice. Our company is not liable for any costs, damage, delays, or other detrimental events resulting from non-compliance.