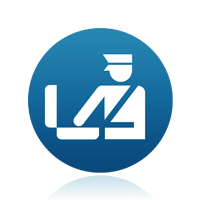 OMAN           
The below information is a brief summary of customs regulations when you plan your international shipping to Oman, Always double check with your local embassy or consulate to make sure you have all the information you need before you make your move. Contact the nearest Oman Embassy.
When you plan your international shipping to Oman, the following documents are required for customs clearance:
Passport (original and two clear copies) including the page where Oman Visa is stamped
Visa/Residence Permit (two clear copies)
Work Permit
Inventory in English (fully detailed and two clear copies) Customs does not accept "PBO" entries
Letter authorizing Destination Agent to clear shipment
Insurance Certificate
Original Bill of Lading/Airway Bill
When shipping goods overseas to Oman, the following items customs guidelines will need to be met:
CUSTOMER MUST BE PRESENT FOR CUSTOMS CLEARANCE AND HE/SHE HOLDS A VALID OMAN VISA
Used household goods and personal effects are duty-free
100% inspection on all shipments
Visa/residence permit is required for custom clearance
Personal effects are subject to be open for inspection by custom authorities
Normal customs clearance takes 3-4 working days [Thursdays and Fridays Customs will remain closed]
Customs and port authorities will allow 5 days of free storage for full container load shipments, 15 days for less than container loads shipments and 5 days for shipments arriving by air
Books, literature, audio/video cassettes, records, CD's etc. are all detained by customs for screening and will be released to consignee only after approval by the Ministry of Information
All prohibited articles detained by customs may be destroyed without the consignee's consent
When shipping goods overseas to Oman, The following items are dutiable and/or restricted:
All household goods or personal effects less than a year old are dutiable
When shipping goods overseas to Oman, the following items are prohibited, but not limited to,  from entry into the country:
Alcoholic beverages and tobacco products
Pornographic literature, videos, films and pictures (including simple nudity of all kinds)
Wireless and communication equipment, including walkie-talkie systems and remote cordless telephones
Political and religious literature need prior approval from the Ministry of Information
Drugs and narcotics
Objects made of ivory or any endangered species
Explosives, firearms, ammunition, knives, swords, daggers, spears, etc. (even toy guns and decorative items of this nature are subject to confiscation)
*ALL MATTER, BOOKS, PICTURES, RECORDS, FILMS, TAPES, SLIDES,MOVIES, VIDEOS, COMPACT DISCS, COMPUTER SOFTWARE, ETC. SUBJECT TO CENSORSHIP AND CONFISCATION (MUST BE PACKED SEPARATELY FOR EASY ACCESS) A PROCESS WHICH CAN TAKE UP TO 3 WEEKS IF FOUND UNSUITABLE, SUCH ITEMS WILL BE DESTROYED AND THE CONSIGNEE IS LIABLE TO PAY A FINE.
Products of Israeli origin or manufacture, or any items on the Israeli blacklist
When shipping Motor Vehicles overseas to Oman, the following documents and regulations will apply:
Prior permission to import a used auto must be obtained from the Ministry of Commerce and Industry and a "No Objection Certificate" from the local agent of that particular brand of car is required
New cars must be manufactured to comply with G.C.C. (Gulf Cooperation Council) specifications
Duty levied on all cars
Confiscation and/or penalties can result from non-compliance with any of the above
Documents Required:

Proof of ownership.(vehicle registration papers, purchase receipt, etc.)
Passport copy of consignee
Import License
Certificate of Registration copy from the origin country
Authorization letter from consignee to clear the car on his/her behalf.
Valid insurance policy, invoice, local dealer's No Objection Certificate, and Oman Chamber of Commerce & Industry Permit (only left hand drive vehicles are allowed)
Moving Pets to Oman, The following documents must be presented for the importation of pets:
Import Permit must be obtained from Ministry of Agriculture before shipping
Cats and dogs quarantined for up to 180 days, depending on country of origin
Health and Vaccination Certificates issued by the health authorities in the country of origin
Authorization letter from consignee to clear the pets on his/her behalf
*NOTE:  THAT CUSTOMERS ARE HAVING PROBLEMS CLEARING THE RESTRICTED ITEMS SHOWN BELOW THROUGH CUSTOMS, AND SIGNIFICANT LOSS AND DAMAGE HAVE BEEN REPORTED.
If you are moving your household, commercial goods or motor vehicles to Muscat or to another other city, please give us a call to go over any questions on documentation.
The regulations are subject to change without notice. Our copanyis not liable for any costs, damage, delays, or other detrimental events resulting from non-compliance.