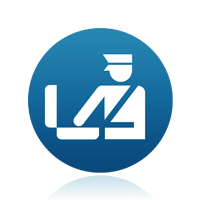 KUWAIT           
The below information is a brief summary of customs regulations when you plan your international shipping to Kuwait, Always double check with your local embassy or consulate to make sure you have all the information you need before you make your move. Contact the nearest Kuwait Embassy.
When you plan your international shipping to Kuwait, the following documents are required for customs clearance:
Passport (two copies of info page and Residence Permit page)
Visa
Residence Permit (Kiama)
Temporary Import License
"No Objection Certificate" required from the Ministry of Interior
Declaration from employer that customer is employed by a specific firm
Letter from employer stating customer's purpose of stay
Descriptive inventory (original) showing brand name, make and model of all items
Invoice and Certificate of Origin (bearing manufacturer's name and address) for new items and personal computers
Authorization letter in Arabic to clear shipments. This can be obtained from the consigned upon arrival in Kuwait
Copy of Civil ID (Kuwait ID card)
Inventory showing gross weight and number of packages
When shipping goods overseas to Kuwait, the following items customs guidelines will need to be met:
CUSTOMER'S PRESENCE IS REQUIRED FOR CUSTOMS
Personal effects such as clothing and books are permitted duty-free provided they arrive by air
Used household goods are permitted, but subject to duty
All shipments inspected
When shipping goods overseas to Kuwait, The following items are dutiable and/or restricted:
Electronic items included in shipment will delay Customs and subject to approval by Ministry of Commercial Industry
Medication and foodstuff (subject to special approval and inspection by the Ministry of Health), must be packed separately
New items
Pesticides/insecticides, paints, chemicals subject to approval by Environmental Protection Authority
When shipping goods overseas to Kuwait, the following items are prohibited, but not limited to, from entry into the country:
PC's, radio transmitters, and wireless telephones require a special permit and are subject to approval by the Ministry of Telecommunications
All types of weapons, ammunition and explosives, including antique and ornamental
Narcotics and drugs
Pork products
Alcoholic beverages of any type including beer and wine-making kits
Gambling equipment
Pornographic or political, military literature or controversial materials
Objects or ../images which could be construed as a graven image or contrary to Islamic morality
*ALL PRINTED MATTER, BOOKS, PICTURES RECORDS, FILMS, TAPES, SLIDES, MOVIES, VIDEOS, COMPACT DISCS, COMPUTER SOFTWARE, ETC. ARE SUBJECT TO CENSORSHIP AND CONFISCATION (MUST BE PACKED SEPARATELY FOR EASY ACCESS)
Prohibited goods MUST NOT BE INCLUDED with the goods being shipped
Any prohibited items in shipment will be confiscated and may be destroyed without the customer's consent
When shipping Motor Vehicles overseas to Kuwait, the following documents and regulations will apply:
OWNER'S PRESENCE REQUIRED AT CUSTOMS CLEARANCE FOR ANY VEHICLE
Non-Kuwaiti individuals/firms are not allowed to import vehicles into Kuwait
Vehicles subject to duties
Used vehicles over five years old are not permitted
Owner of the vehicle must have a valid Residence Permit in order to import an auto
Contact destination agent prior to importation to obtain current regulations
Documents Required:

Registration Certificate
Purchase Invoice
Moving Pets to Kuwait, The following documents must be presented for the importation of pets:
Importation discouraged due to climate
Rabies vaccination and valid health certificate
*NOTE:  THAT CUSTOMERS ARE HAVING PROBLEMS CLEARING THE RESTRICTED ITEMS SHOWN BELOW THROUGH CUSTOMS AND SIGNIFICANT LOSS AND DAMAGE HAVE BEEN REPORTED.
If you are moving your household, commercial goods or motor vehicles to Failaka Island, Al-Ahmadi. Kuwait City or to another other city, please give us a call to go over any questions on documentation.
The regulations are subject to change without notice. our company is not liable for any costs, damage, delays, or other detrimental events resulting from non-compliance.