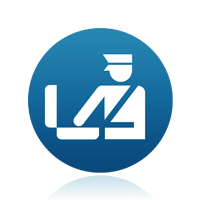 ISRAEL
The below information is a brief summary of customs regulations when you plan your international shipping to Israel. Always double check with your local embassy or consulate to make sure you have all the information you need before you make your move. Contact the nearest  Israeli Embassy.
When you plan your international shipping to Israel, The following documents are required for customs clearance:
All Passports (old and new) for all citizenships, for customer, spouse and all dependent children
Foreign worker must have a B-1 Visa stamped in Passport and Third Party Guarantee from his employer
Religious personnel must have an A-3 Visa stamped in Passport and Third Party Guarantee
Returning Israeli student must have stamped Passport by Customs authorities
Residence Visa
Customs Bond
Proof of Employment
Insurance Certificate and breakdown
Certificate of Residence – legally stamped (lease or proof of ownership for a minimum of one year — if furnished, should specify which items supplied, as duplicate items imported are not duty-free)
Letter authorizing destination agent to clear shipment
Inventory (in Hebrew) showing values of all items, giving make, serial number and appliance manufacturer's name, whether old or new, and sizes for all fabric items (rugs, drapes, wallpaper, etc.)

Must itemize dinnerware and cutlery
Invoices for new items

New Immigrant Booklet (Teudat Oleh) for immigrants
Israeli identity card (for singles), divorce papers (for divorced persons), death certificate (for widows/widowers), and similar personal identity documents, as applicable
Declaration and Power of Attorney for customs to be prepared and signed at the destination agents office
When shipping goods overseas to Israel, The following items customs guidelines will need to be met:
CUSTOMER MUST BE IN COUNTRY AT TIME OF CUSTOMS CLEARANCE
Regulations vary according to customer's immigration status — each customer must contact the Consulate for further details
New immigrants or temporary residents may be allowed three duty-free shipments within three years (shipment of auto and professional tools is not included in these three shipments)
Returning Israelis are allowed one duty-free shipment
New immigrants and temporary residents must have resided a minimum of one year in the last country of residence
Household goods and personal effects for Returning Israelis must arrive within nine months of customer
All household goods and personal effects must be owned by the customer
Inheritance

Original will
Testament showing receipient as beneficiary
Death certificate
Packing list
Reduced taxes to be paid
Customs inspection to be performed
When shipping goods overseas to Israel, The following items are dutiable and/or restricted:
Only one of each electrical/electronic appliances are duty-free

Original invoices required
Must state make, model and serial number

New items (invoice required)
Alcohol and tobacco products
Carpets, curtains, linoleum, wallpaper, fabrics (state how many meters and price)
Tools and gifts
Musical instruments
Camping and sports equipment
Food items: allowed 15 kgs. per person, the balance is subject to Customs duties
Cordless telephones and facsimile machines are dutiable and a special permit from the Ministry of Telecommunications is required. Recommend checking in advance whether model in question is permissible.
Computer, answering machine, fax machine, safety car seat, car radio, windsurfer, electric powered lawn mower, building accessories, compact disc and turntable (only if both are imported)
When shipping goods overseas to Israel, The following items are prohibited from entry into the country:
Firearms, weapons, ammunition, tear gas, explosives and dangerous chemicals – (NOTE: Small arm caliber's can be imported but require special permission from the Israeli Police and Ministry of Interiors.
Large quantities of any items are not permitted
Narcotics, drugs and dangerous chemicals
Seed, live plants and saplings
Pornographic material
Fresh meat
ALL PRINTED MATTER, BOOKS, PICTURES, RECORDS, FILMS, TAPES, SLIDES, MOVIES, VIDEOS, COMPACT DISCS, COMPUTER SOFTWARE AND DISKETTES, ETC. ARE SUBJECT TO CENSORSHIP AND CONFISCATION (MUST BE PACKED SEPARATELY FOR EASY ACCESS AND CLEARLY MARKED ON THE INVENTORY).
When shipping Motor Vehicles overseas to Israel, The following documents and regulations will apply:
CERTAIN AUTOS FORBIDDEN FROM ENTRY, CUSTOMERS MUST CONTACT CONSULATE FOR DETAILS
Automobiles for returning Israelis are subject to full customs duties
Automobiles for new immigrants are subject to reduced customs duties of 46 – 76%
An auto not more than four years old may be imported with approval by the Israeli Standards Institute
Right-hand drive automobiles are prohibited
Documents required:

Passport
Teudat Oleh
Purchase Invoice or Registration in name of shipper
Keys
Insurance Certificate (valid in Israel)
Valid Israeli Driver's License from country of origin and Israeli drivers license
Import License from the Ministry of Transport
Moving Pets to Israel: The following documents must be presented for the importation of pets:
Health certificate
Vaccination records
The regulations are subject to change without notice. Our company is not liable for any costs, damage, delays, or other detrimental events resulting from non-compliance.