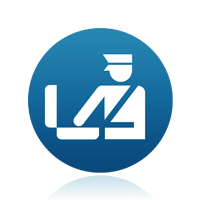 INDONESIA                 
The below information is a brief summary of customs regulations when you plan your international shipping to Indonesia. Always double check with your local embassy or consulate to make sure you have all the information you need before you make your move. Contact the nearest Indonesian Embassy.
When you plan your international shipping to Indonesia, The following documents are required for customs clearance:
For All Customers:

Original passport for customer and spouse valid for a minimum of twelve months
Original Work Permit for customer
Original Residence Permit (KITAS Card) for customer and spouse — both MUST BE validated for a full twelve month period
Customs Application
Bank Guarantee
Letter of Authorization to Destination Agent
Certain vaccinations may be required
Inventory (original and one copy – not valued)

For Expatriates:

Original passport
Residence permit (KITAS Card) valid for 12 months (also for spouse)
Work Permit valid for 12 months
Marital Status Statement (divorced/single only)
Single status customer is not normally entitled to a duty-free shipment and may petition to obtain approval from the Embassy or Consulate

For Returning Indonesian Citizens:

Original Passport
Inventory (original, valued and legalized by Embassy/Consulate)
Application letter and Import Permit from the Department of Trade
Original Statement from Indonesian Embassy/Consulate that customer has been living abroad, stating date of arrival, date of intended return to Indonesia and customer's intent to ship personal effects
Letter of Assignment and Reassignment by customer's employer or sponsoring company
School certificate or diploma for students
License from Indonesian Ministry of Foreign Affair (applied by embassy)
Diplomatic card (for vehicle)

IF THE ENTIRE ABOVE ARE NOT PROVIDED, HEAVY DUTIES, PENALTIES AND DEMURRAGE WILL APPLY.
When shipping goods overseas to Indonesia, The following items customs guidelines will need to be met:
CUSTOMER MUST BE IN COUNTRY FOR CLEARANCE
Shipments 100% inspected
A returning Indonesian citizen must have lived abroad for a minimum of three years and must have been in possession and use of the items for at least two years with continued use of the items while in Indonesia to be allowed duty-free entry
For expatriates, household goods must have been in customer's possession and use for at least one full year, and be for the Customer's continued private use in Indonesia (not for resale)
Only one air and one sea shipment of household goods allowed duty-free
Shipments must arrive within three months of date of issuance of KITAS Card
It is unwise to include any shipment boxes which are marked with any name but the shippers.  This could jeopardize clearance.
When shipping goods overseas to Indonesia, The following items are dutiable and/or restricted:
Only one of each major appliance is allowed duty-free with the exception of air conditioners
New articles and items not listed on inventory
Material in Chinese (pictures, tapes, etc.) will require proper permits and is subject to censorship and confiscation
Medicines (prescription required)
Cosmetics
Antiques (may have problems re-exporting)
Large quantities of any type of product will slow clearance and result in high duty
When shipping goods overseas to Indonesia, The following items are prohibited from entry into the country:
Explosives, weapons, firearms, and ammunition
Narcotics and drugs of  various kinds
Alcoholic beverages
Video tapes laser discs and books are subject to censorship. Prepare a list of titles and authors
Animal skins
Pornographic and politically sensitive literature
Foodstuff
Cordless telephones
Presence of any DUTIABLE/RESTRICTED/PROHIBITED items in shipment will greatly delay clearance and increase charges considerably.
When shipping Motor Vehicles overseas to Indonesia, The following documents and regulations will apply:
Prohibited except for certain diplomats
Moving Pets to Indonesia: The following documents must be presented for the importation of pets:
Copy of owner's passport
Letter of Recommendation from the Department of Veterinary Science
Copy of Health Certificate, Vaccination Book and Rabies Vaccination required
Local Import Permit must be obtained from the Indonesian Agricultural Department before pet arrives
Subject to import duties and taxes
Must be for personal/private use and not for resale
Pets name, breed, sex, age and color on paperwork
USEFUL INFORMATION
Indonesia can be a difficult place to clear customs. Normal customs clearance takes from 7 to 10 working days, providing the documentation is order. If duties have been assessed, allow 3 to 4 days after payment to the Indonesian Customs Cashier.
The average time to obtain documentation certifying valid work and residence permits can range from two (2) to four (4) weeks after arrival of the shipper in the Indonesia with a one-year visa from the Indonesian Embassy or Consulate.
It is recommended that the shipper prepare a list of titles and authors of books/publications to allow customs the option of cursory inspection.
The regulations are subject to change without notice. Our company is not liable for any costs, damage, delays, or other detrimental events resulting from non-compliance.