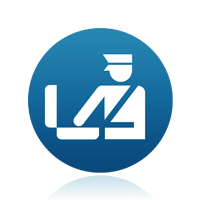 GREECE           
The below information is a brief summary of customs regulations when you plan your international shipping to Greece. Always double check with your local embassy or consulate to make sure you have all the information you need before you make your move. Contact the nearest Greece Embassy.
When you plan your international shipping to Greece, The following documents are required for customs clearance:
Passport for Customer and spouse (previous passport if current one is less than two years old)
Inventory, detailed and consularized by Greek Consulate in country of origin, to be TRANSLATED at destination (must include make, model and serial number of ALL APPLIANCES, the quality, and quantity, square feet, and color of any woven floor covering in the shipment and auto, if any)
Law 1599 Form (Ipefthini di losi) stating that you will keep the goods in your possession for at least one year
Letter from owner of goods authorizing Destination Agent to clear shipment
Repatriating Greeks, persons with Greek ancestry, persons married to or children of Greek citizens, Greek Military and foreign EEC members
Customer must have been abroad for at least two years
Certificate of Repatriation (allows a Customer to bring goods into Greece duty-free) Inventory list
Foreigners coming to work
Certificate of Secondary Residence
Housing Contract
Bank Guarantee
When shipping goods overseas to Greece, The following items customs guidelines will need to be met:
CUSTOMER MUST BE IN GREECE AT TIME OF CUSTOMS CLEARANCE AND HIS PASSPORT MUST BE PRESENTED
If shipment belongs to GREEK REPATRIATE, OWNER MUST PERSONALLY ATTEND CLEARANCE
Personal effects and household goods are generally duty-free
ALL ITEMS brought in must be re-exported, or customs duty will be assessed when leaving
For foreigners coming to work in Greece, VAT (Value Added Tax) is payable on all goods
When shipping goods overseas to Greece, The following items are dutiable and/or restricted:
Only one of each appliance allowed – advise make and serial number on inventory
Office equipment such as facsimile, photocopies and telephone systems are dutiable
When shipping goods overseas to Greece, The following items are prohibited from entry into the country:
Alcohol and tobacco products
Matches
Firearms
Drugs and medicines
Playing cards
When shipping Motor Vehicles overseas to Greece, The following documents and regulations will apply:
Must be in owner's possession for at least six months
Restrictions apply to vehicles with diesel engines
Duties vary according to make, model and length of time car owned
Documents required:

Consular Certificate from origin
Must be listed on household goods inventory
Registration plates and vehicle road license showing that the appropriate road tax has been paid in the country of origin
Drivers License
The regulations are subject to change without notice. Our company is not liable for any costs, damage, delays, or other detrimental events resulting from non-compliance.