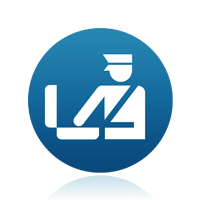 ECUADOR
The below information is a brief summary of customs regulations when you plan your international shipping to Ecuador. Always double check with your local embassy or consulate to make sure you have all the information you need before you make your move. Contact the nearest Ecuador Embassy.
When you plan your international shipping to Ecuador, The following documents are required for customs clearance:
Original Passport with proper Visa
Immigrant Visa
Migration Certificate, issued at destination by Migration Police
Work contract valid for more than one year (foreigners with non-immigrant working visa)
Inventory (in Spanish) must be legalized at origin by Consulate of Ecuador
Ecuadorian citizens returning after a minimum of one (1) year of legal residence abroad require a resident visa from the country they are moving from
When shipping goods overseas to Ecuador, The following items customs guidelines will need to be met:
ALL HOUSEHOLD GOODS AND PERSONAL EFFECT SHIPMENTS MUST BE INSPECTED AT ORIGIN BEFORE EMBARKATION.  LACK OF PRE-INSPECTION WILL RESULT IN RETURN OF HOUSEHOLD GOODS AND PERSONAL EFFECTS TO PORT OF ORIGIN AT SHIPPER'S EXPENSE.  PLEASE CONSULT WITH THE ECUADORIAN DESTINATION AGENT FOR FURTHER INFORMATION.
Diplomatic shipments are excluded from the above requirements.
Customer must be in Ecuador at time of customs clearance.
Any cost incurred for obtaining this certificate is not included in the door-to-door cost of the move, and is for the Customer's account
Shipments for foreigners, immigrants and returning nationals must arrive within 60 days of the Customer
Foreigners and immigrants can import household goods duty free, contingent on the issue of a visa valid for over one year
Used household goods and personal effects are duty-free for:

Foreign diplomats
Ecuadorian diplomats
Ecuadorians retiring from official assignments in international organizations

Ecuadorians with at least one (1) year abroad are allowed duty free entry of household goods.
All shipper may import one electric appliance. (Any extras may be dutiable)
Shipments on which all conditions are not fulfilled will be subject to payment of import taxes (approx. 43% of CIF value, calculated by Customs after inspection)
When shipping goods overseas to Ecuador, The following items are dutiable and/or restricted:
New items and shipments in excess of a certain valuation are subject to duties
Electrical appliances must not be shipped with original packing
Limited quantities of alcoholic beverages and tobacco products may be allowed
Only one of each item allowed, additional items subject to payment of duties
When shipping goods overseas to Ecuador, The following items are prohibited from entry into the country:
Firearms and ammunition
Drugs and narcotics
Pornographic material
Foodstuffs and live plants
When shipping Motor Vehicles overseas to Ecuador, The following documents and regulations will apply:
Importation of used vehicles is prohibited
To import a motor vehicle, it must be brand new, and it must be inspected at origin before embarkation (even if it is sharing a container with household goods)
Motor vehicles are subject to duties (approx. 65% of CIF value)
Previous authorization from the Ministry of Finance required before new vehicle is shipped from origin
Moving Pets to Ecuador: The following documents must be presented for the importation of pets:
May import up to three pets
Documents required:

Health Certificate
Vaccine Certificate
NOTES
Customs clearance process takes approximately 4-5 weeks in Guayaquil and approximately 2 weeks in Quito.
The regulations are subject to change without notice. Our compny is not liable for any costs, damage, delays, or other detrimental events resulting from non-compliance.